People's Bible: Web project visits Oxford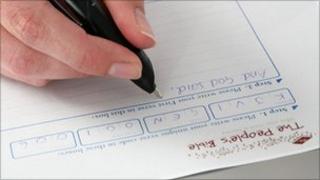 People in Oxford will have a chance to contribute to a web-based project marking the 400th anniversary of the King James Bible.
The People's Bible initiative encourages people to write two verses of the Bible with a digital pen, which are then uploaded to a website.
The finished version will be presented to the Queen in November.
The project will be at St Mary Magdalene Church later and St Michael at the Northgate Church on Monday.
The Authorised King James Version of The Bible celebrated its 400th anniversary on 2 May.
The translation was proposed by the president of Corpus Christi College in Oxford and commissioned by King James I in 1604.
Everyday sayings
Scholars had long attempted to make it more widely available by writing it in English and some had paid with their lives for what was considered at the time as heresy.
Dr Watcyn James, of the Bible Society, said this scheme would help people understand the impact this particular version of the Bible had on them.
"It has been so important within the English-speaking world, in churches and chapels all across the world, and also within culture generally," said Dr James.
"You could hardly begin to understand either literature or culture or politics without reference to this bible."
Dr James referred to some 257 everyday sayings - such as "the blind leading the blind," "salt of the earth" or "wheels within wheels" - which stem from the translation.
The project was launched at Edinburgh Castle on 19 June, the anniversary of the birth of King James VI of Scotland (King James I of England), at the castle, in 1566.