Afghan death Gurkha Rifleman Vijay Rai repatriated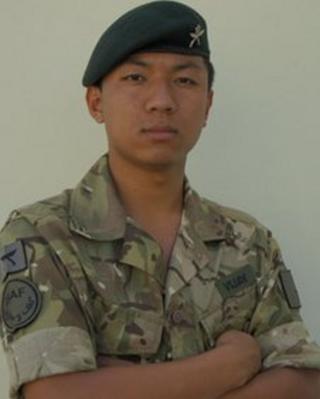 About 600 people turned out to line the route of a repatriation ceremony for a Gurkha who was killed in Afghanistan.
Rifleman Vijay Rai, 22, is the fourth serviceman killed in Afghanistan to be flown into RAF Brize Norton in Oxfordshire since the ceremony was moved from Royal Wootton Bassett.
He was killed by small arms fire at a checkpoint in Helmand province on Saturday 15 October.
His family said Rifleman Rai was "very proud to be a Gurkha".
He was deployed to Afghanistan on his first operational tour of duty as part of the Kent-based 1st Battalion The Rifles Battle Group on 22 April 2011.
'Utterly professional'
He was the youngest son in a family from East Nepal. His father and elder brother served as Indian Gurkhas and his middle brother is still serving with them as a sergeant.
Lt Col Fraser Rea described Rifleman Rai as "tough, loyal, uncomplaining and utterly professional".
He added: "He had a ready smile, a big heart and loved his sport and music. He was deeply committed to his fellow soldiers in Amboor Company and to the local Afghans whose lives he strove to improve during the tour."
About 600 people turned out on Thursday to pay their respects at the memorial garden in Carterton.
Corteges previously travelled to Oxford's John Radcliffe Hospital from the RAF base at Lyneham but they moved to RAF Brize Norton in September when the Wiltshire base closed.