Gates improve access to Chilterns countryside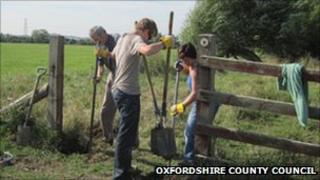 Volunteers have installed 100 gates in the Chiltern Hills area, which they say will enable more people to enjoy the countryside.
The kissing gates, which have taken three years to install, replace stiles on footpaths near Henley-on-Thames.
The project is aimed at improve access to the countryside for people with disabilities.
The work was carried out by the Chiltern Society and Oxfordshire County Council's countryside service.
Chiltern Society chairman John Taylor said stiles could be a "major problem" for blind people and those with joint problems.
"This project is a fantastic example of how co-operation between public and volunteer organisations can make a real difference for the public good."