Horse-drawn carriages could return to Oxford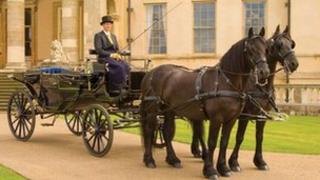 Horse-drawn carriages for tourists could soon be seen on Oxford's streets after the city's licensing committee gave approval for tours.
Councillors had raised concerns about horse droppings, and the council received objections from animal rights campaigners.
But business owner Kevin Merry said he would clear up the droppings.
A new by-law still needs to be passed before carriages can take to the city's streets.
Mr Murray said his horses were "stunningly beautiful, well-kept horses".
'Very excited'
He said: "They have concerns about the horse droppings.
"The thing is, there's just two horses pulling one carriage, it's not like the Trooping of the Colour, and they will be cleared up."
Mr Murray said the carriages would pick up and drop off only in Broad Street and would go a different route than the scenic bus tours which currently operate in Oxford, to minimise disruption to traffic.
He said it had taken "nearly two years" of meeting with Oxford City Council and the licensing committee to get approval.
"We're very excited and can't wait to get started," he said.
In order for the horse-drawn carriages to take to Oxford's streets, the council will have to approve a new by-law at the next full council meeting on 19 December.
If approved by the council, the decision will have to be rubber-stamped by the Secretary of State for Transport.