Plans to automate weir at Northmoor Lock criticised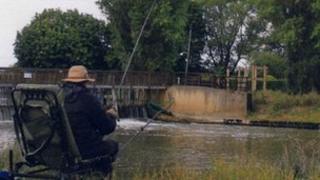 Residents in an Oxfordshire village have criticised the Environment Agency (EA) over plans to spend £2.5m automating a weir on the River Thames.
The Northmoor weir near Appleton is currently a manually operated paddle and rymer system controlled by a lock keeper.
The EA said it needed to mechanise the weir because it was no longer safe for its employees to use.
But campaigners said the money could be better spent elsewhere.
Mike Hill, one of the campaigners, said there was no evidence that a mechanised weir would protect homes from flooding better than a manual weir.
Illegal weight
He said the current system could last another 40 years without modification.
He added: "One wonders what the real reason is behind this move by the EA.
"They've talked about health and safety and yet we have a lock keeper that's retired after 30 years of service on that part of the River Thames, who has got no health and safety issues at all, no injuries."
The area manager for the EA, Innes Jones, said that paddle and rymer weirs used heavy pieces of wood that were three times the weight that it was legal for an employer to make someone lift.
He added that, during the serious floods in 2007, it took two specially-trained members of staff several hours to fully open the Northmoor weir.
He said those kinds of delays could put houses at risk of flooding.
The new mechanised system would be push-button operated and useable by a wider number of EA staff.