Mapledurham Estate creates electricity with new turbine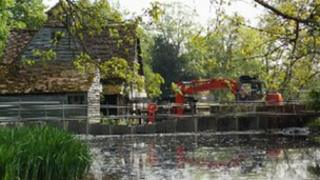 The owners of an Oxfordshire watermill have unveiled a water turbine which could provide power for homes.
The £500,000 Archimedes screw project is funded by the Mapledurham Estate, owned by the Blount family since 1492.
The estate includes a Grade I listed Elizabethan manor house and the last commercial working watermill on the River Thames.
From this Sunday, visitors to the house will be able to view the giant turbine by walking over a footbridge.
The new Archimedes screw will replace an old turbine which is located in the river bed on one side of the 15th century watermill.
'Big screw'
The previous turbine was installed in the 1920s and supplied the manor house with electricity for many years, but is no longer working.
Corry Starling, water bailiff at Mapledurham Estate, said the new turbine would pay for itself in 10 years, and would generate income for the estate's upkeep.
He said: "It's a huge great big screw, known as an Archimedes screw.
"Our turbine will have the most water going through it of any Archimedes screw in the country.
The turbine is expected to generate 500,000 kW hours per annum.
It will be powered by 1,800 gallons (8,000 litres) of water per second, the equivalent of 280 Olympic sized swimming pools every day, according to Mr Starling.
The hydro electricity project has taken two years from planning application to completion.
The Mapledurham estate's watermill will continue to produce flour for sale.
The mill was used as a location in the film The Eagle Has Landed and also featured on the cover of the eponymous 1970 debut album of the heavy metal band Black Sabbath.