Katie Price addresses Oxford Union students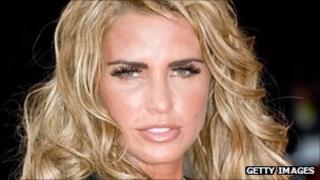 Katie Price has told the Oxford Union there is "no excuse for people to just get pregnant and stay at home".
Price, who used to be known as Jordan, spoke to students about her career from glamour model to TV star.
She also told the 1,000-strong crowd that she believes there needs to be tighter regulations on the media.
Price followed in the footsteps of the Dalai Lama, Winston Churchill and, more recently, Pamela Anderson, when she spoke in the debating chamber.
The 33-year-old told students: "I come from a family that has had to work to earn a living.
'Indestructible'
"It doesn't matter if you're a single mum or you have financial stuff, I believe that if you really want to do something and put your mind to it, it's feasible, but you really have to be realistic.
"There's no excuse for people to just get pregnant and stay at home."
Price also spoke in detail about her treatment by the paparazzi and the media.
She said: "There are so many things that need to be tweaked and done properly, more regulation.
"You've got people coming across (badly) in this industry because they're not saying things right."
She added that she felt sorry for the new host of reality stars from shows such as The Only Way is Essex and Made in Chelsea as they do not know the industry as well as her.
She said: "I'm just very lucky that I've got a lot of people around me.
"I think the media know now that they're not going to destroy me. I'm indestructible."
A spokesman for Oxford Union said the event proved "very popular".