Oxford Debenhams in apology to breastfeeding mother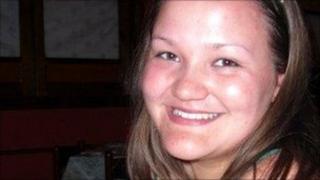 A mother-of-two has said her confidence was undermined when she was told to stop breastfeeding by staff at an Oxford department store.
Emily John was feeding her son while shopping with a friend in Debenhams.
Two managers approached her and told her to move, saying her actions were "inappropriate".
Debenhams has since apologised for the incident and said it will retrain staff to be more supportive of breastfeeding mothers.
'Right to breastfeed'
Mrs John, 25, from Oxford, said she was "discreetly breastfeeding" her four-week-old son when a manager approached her and said her actions were not appropriate in a public place.
"I told her there was no way I was going to move until my baby had finished and there was a law in place to protect my right to breastfeed," she said.
Mrs John told the manager she wanted to make a written complaint, at which point a second manager came over to ask her to stop breastfeeding.
"It just really undermines your confidence when breastfeeding in public and makes you think twice about it before you feed your baby," she said.
Mrs John has since set up a page on social media site Facebook detailing her experience and asking other mothers to join her in a breastfeeding "nurse-in" or sit-in.
Debenhams has offered to throw a party for any mothers who want to come and breastfeed at the store on Saturday as a celebration of breastfeeding.
Mrs John told BBC Oxford that Debenhams had apologised to her and offered to retrain staff, but said she was still planning to go ahead with the "nurse-in" to raise awareness of breastfeeding.
In a statement, Debenhams plc said: "We are very proud of the fact that we are supportive of breastfeeding mums at Debenhams.
"It appears that with this isolated incident the staff in our Oxford store got our policy wrong.
"As a matter of urgency we are immediately reminding and reinforcing our breastfeeding stance with our staff.
"We have spoken to Emily and apologised to her and her family and do so again now."