Campsfield House immigration removal centre 'requires improvement'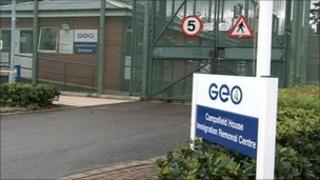 An Oxfordshire immigration centre has been criticised for its health care and education facilities following a surprise inspection.
Nick Hardwick, chief inspector of prisons, said: "Little progress had been made in remedying areas we identified as requiring improvement".
The report also said Campsfield House detainees felt safe and had good relationships with staff.
The UK Border Agency said it would respond to concerns "in due course".
Campsfield House in Kidlington holds men detained under immigration laws.
The unannounced visit took place in May.
'Significant weaknesses'
The report stated: "Education provision had not increased and was particularly unsuitable for those spending lengthy periods in the centre."
It added that health care also had "significant weaknesses".
Alan Kittle, director of detention services at the UK Border Agency, said: "Detention is vital in helping us remove those with no right to be in the country and it is essential that our centres are run in a professional manner to a high standard.
"We will consider the contents of this report and respond to each of the recommendations in due course."
Bob Hughes, from the Close Campsfield Campaign, said the changes would not be enough.
He added: "All improvements are welcome but the biggest improvement of all would be to stop messing around with people in this terrible way.
"They employ people to write nice rulebooks that talk about dignity, respect, treating people with courtesy and observing their human rights, but everybody who works in that business knows the real aim is to show they are tough."