Oxfordshire farmer first to trial new heart treatment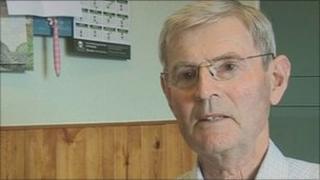 A retired dairy farmer from Oxfordshire has become the first person to take part in a five-year trial to cut deaths from heart attacks and strokes.
David Burton, who had a stroke five years ago, will be one of 30,000 people taking part.
Invitations are being sent to others in Oxfordshire before it is rolled out across the UK and internationally.
Dr Martin Landray, who is leading the study, said it could improve life for millions of people.
Mr Burton does not know if the pills he is taking are the actual trial drug or a placebo but he said he was still happy to be taking part never-the-less.
"You've got nothing to lose," he added.
"It's had no ill effects on me and you might be doing other people a bit of good, you might even be doing yourself a bit of good."
Bad cholesterol
Coronary heart disease is the most common cause of death in the UK in the under 75s.
Last year in Oxfordshire, 500 people were admitted to hospital suffering a heart attack, 1,500 suffered a stroke and more than 2,000 needed stents or bypass surgery for heart disease.
It is hoped the new drug, called anacetrapib, will reduce bad "LDL" cholesterol and also substantially increase good "HDL" cholesterol.
The study is being run by Oxford University's Clinical Trial Service Unit.
Dr Landray said: "Large studies like this are vital if we are to discover new ways to reduce the pain and suffering caused by heart attack, strokes and bypass procedures.
"We are grateful to Mr Burton, and people like him, for taking part."
The results for the new drug are expected in 2016.