Somerville College buildings open on Radcliffe Observatory Quarter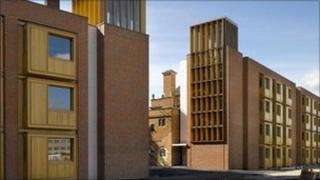 New student accommodation has been built on the former Radcliffe Infirmary site in central Oxford.
The buildings open on Saturday and will house Somerville College undergraduates.
Their construction forms part of the University of Oxford's busiest period of development for decades.
The university's chancellor called it one of the institution's "most significant projects for more than a century".
Rt Hon the Lord Patten of Barnes added: "The opening of these buildings, the very first on the site, is a cause for great celebration - not just for Somerville, but for the university as a whole."
'Dedicated centre'
Dr Alice Prochaska, principal of Somerville College, said: "The new rooms in effect provide 68 mini bursaries each year to Somerville students who otherwise would have to pay for nearly a full year's rent at Oxford's commercial prices.
"This will be a great benefit to all our students, but is especially important for those in the coming years who will face the prospect of shouldering larger debts than before."
The 10-acre Radcliffe Observatory Quarter site is the last remaining large plot of land available for development in the historic heart of the city.
It is costing the university around £160m to develop.
The Blavatnik School of Government will be amongst the new facilities based there.
The university has described it as a "dedicated centre for the training of future leaders in government and public policy".
The outpatients' building, fountain of Triton and St Luke's Chapel are also being refurbished whilst other dilapidated buildings will be demolished.
The Radcliffe Infirmary site was bought by the university in 2003 for £40m after medical services moved to new facilities at the John Radcliffe and Churchill Hospitals.