RAF Barford St. John jet engine role commemorated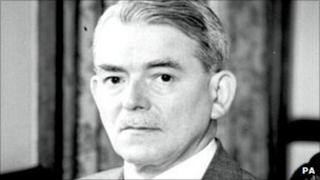 A plaque is to be unveiled at an Oxfordshire airbase that was at the centre of efforts to develop the jet engine.
RAF Barford St. John was chosen as the development airfield for Sir Frank Whittle's invention in the 1940s.
A ceremony will be held on Friday to celebrate the base's 70th anniversary.
A local military trust spokesman said: "We think nothing of jumping on a jet plane and being on the other side of the world due to this man's genius."
Rita Butler, 84, who was a teenager in Barford St. John when the base was created, said: "I can remember them grubbing out all the hedges and cutting the trees down for the aerodrome.
"We could always hear the jet engine and it was christened Moaning Minnie.
"We didn't know what it was but the noise it was making was certainly different from the noise we were used to from the planes.
'Intercept and destroy'
"I don't think we really realised how amazing it was."
Up until now there has been little tribute to Sir Frank, from Coventry, or the work that was carried out at the base, but passionate locals have sought to change that.
Anthony King, chairman of North Oxon and Cotswold Military Vehicle Trust, said: "To quote Michael Caine, not many people realise that this little part of Oxfordshire played a very important part in the work done by Sir Frank and his team.
"His work was not fully appreciated until much later.
"Without it the Meteor jet would not have flown and been able to intercept and destroy the dreaded V1s that were falling on this country at the time of 1944."
RAF Barford St. John is a non-flying facility operated by the United States Air Force.
The UK's first jet engine flight took place at RAF Cranwell in Lincolnshire on 15 May 1941.
The Gloster E28/39 aircraft powered by Sir Frank's pioneering engine took off for a flight that lasted almost 17 minutes.