Yorkshire Brew withdrawn after trademark row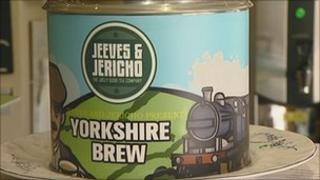 An Oxford tea company has withdrawn its Yorkshire brand after it was threatened with legal action by another tea firm.
In June, Jeeves & Jericho of Oxford launched Yorkshire Brew, which it said was blended specifically for the Yorkshire market.
But Taylors of Harrogate, which makes Yorkshire Tea, claimed it had trademark rights to use the county name for tea.
Daniella Franzese, from Jeeves & Jericho, said it had not deliberately gone out to steal another brand's name.
The company already has Scottish and Irish teas. Ms Franzese said the company was reacting to the market and was disappointed it now had to change the name of the tea.
"It's just a shame that we have to," she said. "It's the cost of re-packaging, re-marketing. It does cost a lot of money to do that sort of thing."
Trademark law
Taylors of Harrogate had demanded Yorkshire Brew be removed from shop shelves.
In a statement, it said it had been blending tea in Yorkshire since 1886.
"As a family business, we're not experts on trademarks but our advisors tell us that we must protect our name for the future of our business and everyone who holds Yorkshire Tea dear," it said.
Michael Butler, from the patent and trademark law firm Dehns, said registering a location such as Yorkshire as a trademark was now possible following a change in the law.
Mr Butler said: "One of the leading cases actually said you can't register York as a trademark but then we changed our trademark law to harmonise across Europe and it became possible."