Cochrane and Papas jailed for Oxford sex trafficking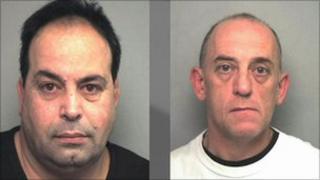 Two men from Oxfordshire have been jailed for trafficking women and using them as prostitutes.
Anastassios Papas, 43, of Iffley Road, Oxford, was given a seven-year sentence, plus four years on licence.
Graham Cochrane, 49, of Concrake Way, Bicester, received five years for his involvement in trafficking women.
The case at Oxford Crown Court was brought after concerns were raised about their Oxford escort agency Fun Girls.
Passing sentence, Judge Gordon Risius said Papas and Cochrane had taken advantage of vulnerable girls who had come from Eastern Europe and exposed them to a degrading and often risky business.
'Continually threatened'
The court heard that in January 2010 Papas had been put under surveillance for 11 days before he was caught in a sting.
At the time he denied doing anything wrong and was recorded on police tape saying: "There is nothing to suggest we're bad people or we're criminals… We're just doing a job."
But Det Insp Simon Morton from Thames Valley Police said a number of girls were being used by Papas.
He added: "They were told they were going to be cut up and put in a box if they did something that he didn't like. They were threatened continually. He was forcing them to be raped every day.
"They would plead that they wouldn't be sent to some punters who would beat them up but he would still send them."
Papas's address in East Oxford was searched and this led officers to Graham Cochrane.
Hourly charge
At his home in Bicester they found two women locked inside and he was arrested on human trafficking charges. He claimed he had only been working as a driver.
But he and Papas had been charging up to £140 an hour for the services of girls, giving them less than half.
Papas was found guilty of trafficking women within the UK for sexual exploitation, conspiracy to traffic women within the UK for sexual exploitation, controlling prostitution for gain and converting £67,075 of criminal property.
Cochrane was convicted of two counts of trafficking women into the UK for sexual exploitation and trafficking women within the UK for sexual exploitation.
Anti-trafficking campaigner and Liberal Democrat MEP Catherine Bearder said the case showed the importance of initiatives like Oxford Community Against Trafficking (Oxcat).
She said: "Human trafficking is not a problem that affects other countries or just the big cities. It's happening in Oxford and Bicester and we all need to be vigilant and open our eyes to potential signs."