Jailed footballer Adam Chapman to make Oxford United return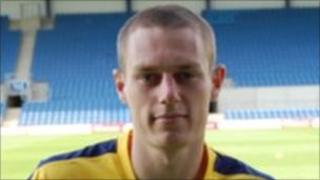 An Oxford United footballer is expected to return to the club when he is released from a young offenders institution, the club's chairman said.
Adam Chapman, 21, was sentenced to 30 months detention in June 2010 for causing death by dangerous driving.
His Vauxhall Corsa hit a Honda Civic driven by Tom Bryan, 77, from Retford, on 9 May 2009 on the A620 at North Wheatley in Nottinghamshire.
Chapman, from Nottinghamshire, is due to be released on Friday.
A police spokesman, speaking on behalf of Mr Bryan's family, said his death was still very raw for them and that they were too upset to speak.
'Done his time'
Oxford United chairman Kelvin Thomas said: "I've seen him [Chapman] personally and we've had regular communication with his family.
"We're not going to make a big deal of it. He's done what he needed to do. He's had his issues and he's taken care of those and he comes back into the fold."
Chapman has been on day release for several months and is expected to move to the Oxford area once he leaves prison.
Mr Thomas added: "Chappy's done his time and he's kept his head down like he said he would and he's worked hard while he's been inside.
"It's obviously a delicate situation as it always is but we've supported Adam through all this and we continue to do that."