Bernard Cribbins launches Farmoor Reservoir Wheelyboat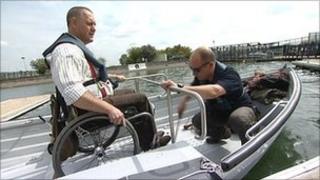 A boat that will enable disabled anglers to use Farmoor Reservoir in Oxfordshire has been launched by actor Bernard Cribbins.
The £12,000 Wheelyboat will give access to wheelchair users wishing to go fishing on the reservoir's waters.
Mr Cribbins, patron of the Wheelyboat Trust, said: "It is of huge importance to give disabled anglers the same opportunities as able-bodied anglers."
Farmoor joins the Blenheim Estate as a Wheelyboat location in Oxfordshire.
Mr Cribbins, 82, added that the Wheelyboat would "provide hours of entertainment for many keen anglers."
'Cracking trout'
Matt Prior, conservation, access and recreation manager at Thames Water, said: "The facilities for fishing here at Farmoor are some of the best in the country so we want to make it accessible to everyone.
"We've already had a lot of interest from disabled anglers who want to go out on the Wheelyboat and we can't wait to hear about their catches."
Mr Cribbins also said when not in use the boats could be used by spectators watching the sailing.
"But they've got some cracking trout in there," he added.
Mr Cribbins is no stranger to the county, having trained at Weston-on-the-Green when he was part of the the Parachute Regiment at RAF Upper Heyford in 1947.
He voiced The Wombles in the 1970s TV series and played Wilfred Mott alongside David Tennant's Doctor Who.
He was appointed an OBE in June.