Arrests in Oxfordshire after violence in county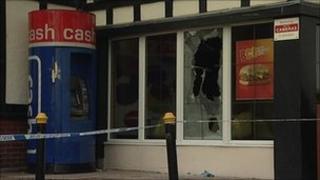 Arrests have taken place following recent disturbances across Oxfordshire.
Two people were arrested in connection with Tuesday morning's arson attack on the McDonald's restaurant in London Road, Headington.
Four people were arrested in Banbury on Tuesday night on suspicion of criminal damage after a shop window was smashed.
The second night of disorder saw fires lit across Oxford and a man treated for smoke inhalation. The 48-year-old was taken to the John Radcliffe Hospital.
'Visible presence'
He was treated after a fire was started outside flats in Hollow Way.
The arrests of the 18-year-old man and a 16-year-old boy in connection with the McDonald's fire are in addition to a 26-year-old man held shortly after the incident.
Extra police were deployed to the Oxford's streets overnight in a bid to quell any violence.
Deputy Chief Constable Francis Habgood said: "There were small pockets of disorder in some areas of the Thames Valley last night.
"Thames Valley Police will continue to provide a high visible police presence and keep the public informed via our website and Twitter channels."