Campsfield House Immigration Removal Centre detainee dies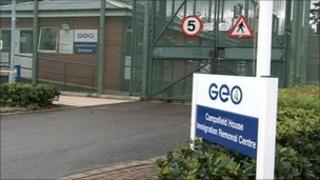 A man has died whilst being held at the Campsfield House Immigration Removal Centre in Oxfordshire.
The BBC received a call from a fellow detainee claiming an Asian man had hanged himself in the showers on 2 August.
A spokesperson from the UK Border Agency confirmed a man had died at the privately run centre and was in the process of contacting his family.
The Police and Prisons and Probation Ombudsman are investigating the death.
The Campaign to Close Campsfield group will hold a vigil for the man in Carfax, Oxford on 3 August, at 18:00 BST.
Liz Peretz from the group said: "We are shocked and saddened by the news of this young man's suicide."