Triple amputee Cpl Tom Neathway trains for Dakar rally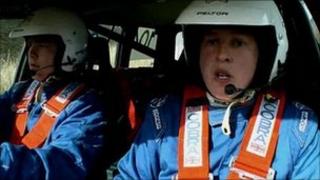 A paratrooper who lost both legs and an arm in an explosion in Afghanistan is so determined to drive again he is training to compete in the Dakar rally.
Cpl Tom Neathway, from Worcestershire, who is based at RAF Brize Norton in Oxfordshire, was injured when a booby trap bomb detonated, in 2008.
He has now recovered enough to compete with the Race2Recovery team, with other wounded soldiers.
Cpl Neathway said the challenge kept him "sane" and helped him physically.
In total, the team of injured soldiers aims to raise £2m for three forces charities, The Royal British Legion, Help for Heroes and Combat Stress.
In 2012, the Dakar Rally route will cover more than 9,000km (5592 miles) from Argentina-to-Peru.
But the route for the race in 2013, in which Cpl Neathway hopes to take part, is not yet known.
Whichever country it takes place in he will have to spend 20 hours a day speeding over difficult terrain at 80 to 90 miles an hour.
He said: "It's really demanding stuff."
On Sunday night, the Race2Recovery team was featured on BBC Two's Top Gear programme after being trained by former "Stig", Ben Collins.
During the rally Cpl Neathway will be co-driving for off-road racer, Dave Marsh.
Mr Marsh owns the company that build the Wildcat off-road vehicles that the team will be driving.
If Cpl Neathway completes the race he will be the first triple amputee to do so but no concessions have been made to cater for their disabilities.
"The cars are completely standard," he said. "We just wanted to be able to do it without any adaptations."