Kidlington flight academy gives Spitfire flying lessons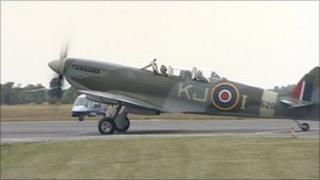 A flying academy in Oxfordshire is offering to teach pilots how to fly World War II Spitfire fighter planes.
The Boultbee Flight Academy in Kidlington will provide typical pre-war training in a restored two-seater Mark IX Vickers Supermarine Spitfire.
Academy owner Steve Boultbee Brooks said: "We passionately believe our role as custodians is to ensure the Spitfire legend continues to grace our skies."
Training in flying a Tiger Moth biplane and a Harvard will also be offered.
Four students have enrolled so far in the three courses which will be instructed by civilian, military and ex-military pilots.
'Every pilot's dream'
Matt Jones, managing director of the academy, said: "We are delighted to play a part in the preservation of the memories of this era and of the skills required to fly and maintain these wonderful aircraft.
"Flying a Spitfire is every pilot's dream."
Speaking at the academy's opening ceremony at London Oxford Airport, Battle of Britain veteran Geoffrey Wellum, 89, called the aircraft "perfection".
Molly Rose, 90, from Bampton, who flew with the Air Transport Auxiliary from 1942 to 1945, said she put the Spitfire's popularity down to its "lightness and manoeuvrability".
"It responded instantly to any wish you had so it was an absolute delight to fly," she said.
It is estimated there are about 50 airworthy Spitfires left in the world.
The aircraft's first test flight was in 1936 and over 20,000 were built.