'Toad Hall' house Fawley Court at centre of legal fight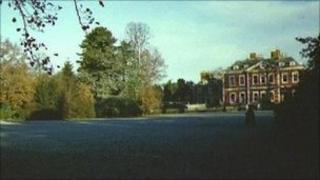 The house that inspired Toad Hall in the book The Wind In The Willows is at the centre of a £5m High Court dispute.
Fawley Court, near Henley in Oxfordshire, was the home of the Catholic Marian Fathers for 55 years.
When it was put up for sale in 2008 the winning bid was by property developer Richard Butler-Creagh at £22.5m.
But he let property investor Aida Hersham buy it instead for £13m and Mr Butler-Creagh now claims she owes him £5m for "facilitating" the sale.
Chapel and stables
Mr Butler-Creagh, of Colmore Lane, Henley, claims he agreed to walk away and let Ms Hersham "step into his shoes" and take over his interest for a "facilitating" fee of £5m, due upon completion in April 2010.
But Ms Hersham, of London's Eaton Square, denies there was any such agreement.
She says there was an understanding that Mr Butler-Creagh would get something if a profit of £32m was achieved on any future sale of the 17th Century house.
Fawley Court has a sweeping River Thames frontage and several acres of gardens designed by Capability Brown.
It was the inspiration for the home of Mr Toad in Kenneth Grahame's classic book.
Mr Butler-Creagh's counsel James Lewis QC, told Mr Justice Eady sitting in London that the property, with its listed chapel and stables, was famed for "its exceptional quality and uniqueness" and was widely attributed to Sir Christopher Wren.
Met at hotel
He said: "It would be very unlikely that a person such as Mr Butler-Creagh would have given up his position or allowed someone to just take it over without agreeing a fee for doing so.
"So, we can safely take it that something must have been agreed, although Aida Hersham says nothing was agreed."
He added that the position claimed by Ms Hersham did not "fit well" with the contemporaneous and other accompanying documents.
Mr Butler-Creagh claimed he had met Ms Hersham at Hotel du Vin in Henley in October 2008 and they later spoke on the phone making an oral agreement to pay the fee, which he informed his solicitor about.
The hearing, which is expected to last three weeks, was adjourned until Tuesday.