Oxford pitbull terrier that bit boy 'still at large'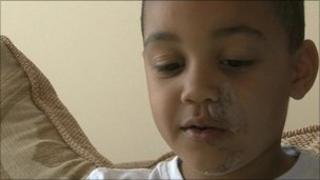 A suspected pitbull terrier that bit a little boy's face is being sought by police in Oxford.
The attack happened in Greater Leys on Friday when three-year-old Che Brown tried to stoke the dog.
His mother Kerry said they met a girl with the dog while out walking and she described it as friendly.
Che needed surgery on the wounds but no nerves were damaged. "I'm just grateful my son stepped back or I wouldn't have a son today," said Ms Brown.
After the attack Ms Brown, who is due to give birth on Sunday, flagged down a car driver who took them to the John Radcliffe hospital.
Criminal offence
Pc Claire Duncan from Thames Valley Police said officers wanted to find the dog and its owner.
She said: "I don't think a dangerous dog should be on the streets. It is a criminal offence for a dog to attack any person."
Ms Brown said the attack had left her son suffering from nightmares.
She added: "What that dog did to my son was absolutely awful and it is not a dog that should be alive."
Ryan O'Mara, editor of K9 Magazine, said that it was completely inexcusable for any dog to bite any person.
"We will continue to see dog attacks while we have a population of dog owners that don't know enough about their animals to look after them properly," he added.