RAF Lyneham relocates to Brize Norton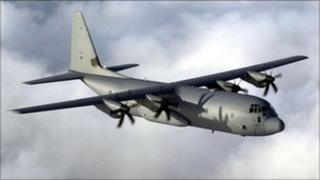 Britain's biggest airforce base is about to expand by more than a third to accommodate thousands of extra military staff coming to work in Oxfordshire.
RAF Brize Norton, near Carteron, is taking over the duties from RAF Lyneham in Wiltshire, which is closing.
The project has been described by the RAF as one of the "most complex schemes running in the airforce" at the moment.
When it is complete, about 15% of RAF personnel will be stationed at the base.
Around 2,500 military staff will make the move from Lyneham, along with 65 civilians and up to 1,000 contract workers.
It brings the total number of service personnel based in Oxfordshire to nearly 11,000.
Research commissioned by BBC Radio Oxford, from Henley Business School, shows the military is worth nearly £200m a year to the county.
But economist Dr Dominic Swords said that with the number of service personnel in the county increasing, this figure could rise to £250m.
Entire Hercules fleet
To cater for the extra staff relocating, a 312-room, four-storey accommodation block has been built within the base.
Off-base, 600 old MoD homes are being demolished and 800 built in their place, subject to planning permission.
The work is taking place in phases and is due to be finished by 2016.
As well as personnel, there will also be an increase in the number of aircraft at the base.
RAF Brize Norton will be home to the entire Hercules fleet, increasing aircraft numbers from 28 to 67.
The first Voyager A330-200 (Future Strategic Tanker Aircraft) will also arrive in October 2011.
There will be 14 of them in all, replacing the old VC-10s at a cost of £13bn.
In addition, all military personal will be transported to and from worldwide military bases and to war zones from the site.
From September, Brize Norton will also become the place soldiers killed in action are returned to British soil.
A memorial garden will be built along the repatriation route at Norton Way, Carterton, where bereaved families and members of the Royal British Legion will gather as the corteges pass.
RAF Brize Norton opened in 1937 and by the 1970s it was the RAF's main base for their long range aircraft.