Wallingford's solar powered Howbery Business Park starts generating electricity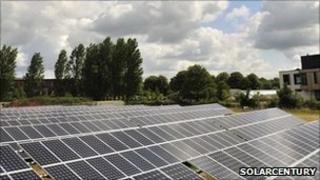 An Oxfordshire business park now receives a quarter of it electricity from solar energy.
Solarcentury expects the 3000 solar panels at Howbery Solar Park to save 350 tonnes of CO2 emissions at Howbery Business Park in Wallingford.
It will generate electricity equivalent to more than 200 homes.
John Ormston, chief executive of the park, said they were committed to leading the way in the use of renewable energy.
He said: "Howbery Business Park will be one of only a few business parks in the UK where occupiers are able to secure a direct electrical supply from a solar array."
Derry Newman, CEO of Solarcentury, said the project provided a glimpse of how solar power could contribute to a cleaner future.
He added: "Solar is not to be underestimated; it is the fastest growing energy technology in the world, simply because it is clean, reliable and a readily available alternative to fossil fuels."
The company has previously built solar parks in continental Europe.
Construction of the Howbery site followed the government's Feed in Tarrif scheme where energy suppliers make regular payments to households generating their own renewable energy.
More than 40,000 installations have registered since the scheme began.