Monks' map was commissioned by Abingdon landowner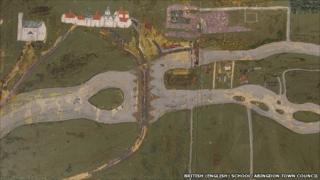 A painting long assumed to have been produced by monks is now thought to have been commissioned by a 16th Century Abingdon landowner.
The Monks' Map hangs in the Abingdon Guildhall and depicts the course of the Thames through the town and towards Oxford.
After several lawsuits regarding the river's use a man called John Blacknall is thought to have had the map made to indicate who owned what.
Jackie Smith, honorary archivist to Abingdon Town Council said: "He marked out the parts that were his and was particularly interested in the river and the fisheries because there were major disputes between different owners."
At this time Abingdon was situated in Berkshire and not Oxfordshire.
Blacknall had bought land where Abingdon Abbey was situated and decided it included the rights to the fish and eels in the river.
The eels had been a major food commodity for the monks of the ancient Benedictine abbey.
The monks had even been paid the price of 100 eels a year by the people of Oxford in return for a navigation channel on church land.
Calf skin
It is unknown who painted the map but it is estimated it was made around the year 1540.
The 0.42m by 2.65m artwork was created with a mixture of egg and pigment on calf skin.
Ms Smith said: "People had always called it the Monks' Map in the past because it was an old map and it was automatically assumed that the monks had produced it.
"I think it's just amazing that it's survived for such a long time.
"It is not a prize winner or a work of art in terms of having a Monet on your wall, but I would love to just have a representation of it on my wall because it's just so fascinating."
The UK has an outstanding national art collection of 200,000 oil paintings, held in a vast range of public institutions, but 80% of the paintings are not on display.
Your Paintings will bring together all these artworks, with the stories behind them, and where to see them for real.