Volunteer use 'not right approach' to spending cuts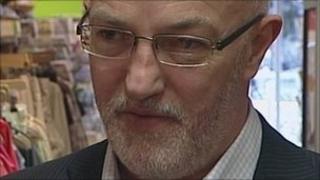 Axing staff in public libraries and replacing them with volunteers is not the right approach to government cuts, Oxfam's trading director has said.
David McCullough said the charity had been approached to advise on staffing libraries with volunteers.
But he said councils needed to "invest in infrastructure" with skilled workers and back that up with volunteers.
Mr McCullough, of the Oxfordshire-based charity, was being interviewed for BBC South's Politics Show programme.
His comments come as Conservative-run Oxfordshire County Council announced a change in plans to close 20 of its 43 libraries - instead keeping them all open, 22 with full staffing and 21 with a combination of staff and volunteers.
Prime Minister David Cameron's Big Society idea wants to see more people volunteering.
Mr McCullough said: "The government is cutting funding, communities want services, so the answer is people should lose their jobs and we should replace those with volunteers.
'Bad plan'
"That's not the way to start.
"You need to invest in infrastructure, you need to invest in the services, you need to have skilled people and then you supplement that with lots of great skills with people who want to volunteer.
"Then you get a really, good, vibrant mix of community.
"But the answer is not chop funding, chop resources and hope you can replace jobs with volunteering because that's a really bad plan I think."
Oxfordshire County Council announced its plans to close 20 libraries in November, unless volunteers stepped forward to run them.
But last month the county council said it was "meeting communities half way" and would "guarantee" that all libraries would receive support in "the form of free access to a suitable building, to book stock, to the library stock management system and the expertise of county council employed library staff".
A consultation on the new plans will run until the end of September.
The council needs to save £119m by 2015.
At the time of the change in policy, Councillor Keith Mitchell, leader of Oxfordshire County Council, said: "Let me be clear, we enter this consultation from a starting point of keeping all 43 libraries open despite the fact that there is less money to spend.
"Local communities can help us to achieve that outcome."