Queen's award given to Oxford's Helen & Douglas House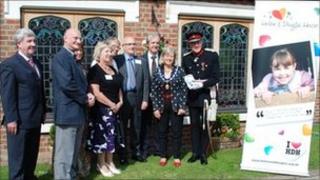 Volunteers at Oxford's Helen & Douglas House hospice have been given a Queen's award for their work.
At a ceremony in Henley-on-Thames, the Lord Lieutenant of Oxford, Tim Stevenson, presented them with the Queen's Award for Voluntary Service.
The volunteer manager, Wendy Bridge, said it was exciting to win.
She said: "It proves the big society has been there for many years. The volunteers supporting us have done so for at least the last five years."
The hospice has a 1,400 strong team of voluntary workers.
They staff its shops and care for children and young adults with life-shortening conditions.
Boxing club
The award was given to 130 volunteering groups across the UK to recognise the services they deliver to their local communities.
The other Oxfordshire winners announced at the beginning of June were the Banbury Young Homelessness Project, the Prison Phoenix Trust and the Windrush Valley Boxing Club.
Steve Setch from the boxing club in Carterton said he had not expected to win the prize but his team of six regular volunteers were "over-the-moon."
As a result of the award Mr Setch has received an invite to the Queen's garden party later this month.