Nigel Farage death threat crash pilot given community order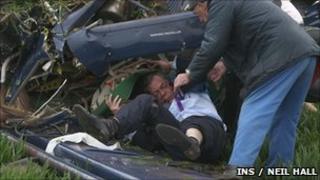 A pilot found guilty of threatening to kill UKIP leader Nigel Farage following a plane crash has been given a two-year supervised community order.
A jury found Justin Adams guilty of making five threats relating to Mr Farage and crash investigator Martin James after the accident in May 2010.
The court heard the recording of a phone call where Adams claimed to have a 9mm pistol.
Adams, 46, of Oxfordshire, said his threats were "a cry for help".
Mr Farage said he intends to "draw a line under this whole affair".
In a statement, he added: "Today's sentencing marks the end of a sad and tragic episode.
"As I have stated previously, it is has always been my belief that Mr Adams was in need of help and support from our mental health services, yet he never got the level of care that he needed."
Entangled banner
The crash in Northamptonshire on 6 May last year, the day of the 2010 General Election, left both self-employed pilot Adams and Mr Farage in hospital.
An Air Accidents Investigation Branch report found the plane crashed when a campaign banner it was towing became entangled, causing the plane's nose to drop.
A subsequent Civil Aviation Authority (CAA) inquiry, which involved investigator Martin James and looked into whether Adams was qualified to fly with a banner, cleared the pilot.
The court heard that Adams lost work in the six months it took for the CAA investigation into the crash to take place and he was unable to have his plane repaired, as insurers would not pay out until the investigation had been completed.
As well as being angry about the length of time the investigation took, Adams also felt resentment towards Mr Farage, judge Mr Justice Saunders said.
The pilot believed he had lost out on an opportunity to sell his story, having been advised not to speak to the press.
He made threats to kill both CAA crash investigator Mr James and Mr Farage.
During the trial, jurors were played a recording of phone call by Adams to police.
'Drinking to excess'
He said: "I'm going to kill somebody or two", the court heard.
He later added: "I now have a 9mm pistol, I've got the means - I will take them out and then myself."
Adams was found guilty of five counts of making threats to kill by a jury in April.
Mr Justice Saunders said Adams was suffering from "a depressive order of moderate severity" which had been triggered by the crash.
The judge told the court: "He was also drinking to excess, which undoubtedly impaired his judgment and affected his behaviour.
"I also accept, having heard the evidence in the trial, that to an extent these offences were a cry for help as well as an expression of anger and resentment at the events that had happened."
Adams has been in custody for six months before sentencing.