Landlord groups critical of new Oxford housing rules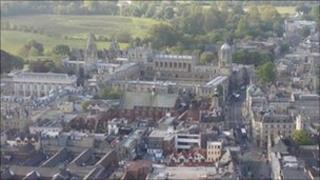 Licensing Houses in Multiple Occupation (HMOs) in Oxford is "bureaucratic" and will not address problems tenants face, landlords' groups claim.
Oxford City Council wants to restrict HMOs to one in five properties on any 100 metre (328ft) stretch of road.
But the National Landlords Association (NLA) said changing the planning system would not improve standards.
And letting agents have said the licences will not address the "real issue" of tenants' safety.
Councillor Joe McManners, who specialises in housing need, said the new rules addressed long standing issues that had not been properly tackled.
Deposits 'stolen'
From 24 February 2012, planning permission and £470 licences will be needed for a house to be rented by three or more unrelated individuals.
Around one in five people in Oxford live in an HMO and inspections over recent years have found almost three quarters of these properties have been unsafe, the council has said.
Jan Bartlett, of Premier Lettings on Cowley Road, said it was "not right" for the council to decide where people were allowed to live, or to avoid the issue of safety.
"There are still tenants going into houses without gas safety certificates or where their agents disappear with their deposits," she said.
'Rogue landlords'
The NLA said that proper "accreditation" of landlords would be "much more cost-effective" in regulating the private rented sector.
"It leaves local authorities to use their resources to tackle the rogue landlords who bring the whole industry into disrepute," a spokesman said.
But Mr McManners said there were two elements to the council's process, licensing which requires all properties to meet a required standard and planning which aims to balance the number of HMOs in any given area of Oxford.
He said "If you allow one area to be dominated by a certain type of housing it causes problems."
Residents and landlords are being asked to give their views on plans, until 22 July, using the council's website or by calling 01865 252847.