Oxford cyclists win Cyclox commuter challenge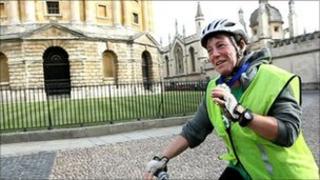 Cyclist have decisively beaten other modes of transport in a commuter challenge run by Cyclox, the cycling campaign for Oxford.
The annual race has previously tested a number of routes into the city centre.
This year participants made a seven-mile journey from Eynsham to the Radcliffe Camera.
Cyclists times ranged from 21 to 35 minutes. The quickest car commuter made the trip in 44 minutes, three minutes quicker than runner Alan Ward.
The fastest commuter bus journey was made in a time of 47 minutes and 40 seconds.
'Queues of traffic'
Oxford's first lord mayor from the Green Party, Elise Benjamin, took part in the challenge, which she completed in 34 minutes.
James Styring, Cyclox chair, said: "On a lovely sunny day like this there is absolutely no reason to sit on the A40 in long queues of traffic.
"Get on your bike and cycle. It's good for you and it will be a lot quicker."