RAF Brize Norton repatriations route is confirmed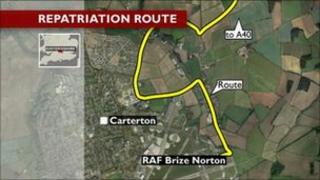 The confirmed route for UK military repatriations through Oxfordshire will avoid Carterton town centre.
The funeral corteges of personnel killed in action when they are flown into RAF Brize Norton from September will go along the edge of Carterton.
Currently, corteges leave RAF Lyneham for Wootton Bassett on their way to the John Radcliffe Hospital in Oxford.
County Councillor David Robertson said in Oxfordshire the set up would be very different.
He added: "This is for the coroner to repatriate the bodies to the families so they can make the funeral arrangements.
"It's grown into an industry in Wootton Bassett and I don't know whether that will happen in Oxfordshire."
'Spectacle'
One caller to BBC Radio Oxford called the decision to avoid the centre of the town "outrageous."
Andrew Brooks said that people in Wootton Bassett were able pay their respect and he disapproved of sending the corteges through "the back way."
He added: "The argument that it's going to disturb the market - well disturb the market - I'm sure people can stop for a few minutes while they are buying their pick 'n' mix."
Another caller disagreed, saying the repatriations had been turned into a spectacle and added: "It's not a circus but a military homecoming."
The RAF is constructing a repatriation centre at Brize Norton and Norton Way will be the focus for people to pay their respects, with temporary road closures made available.