Wantage ex-actor David Dawkins honoured for blood donations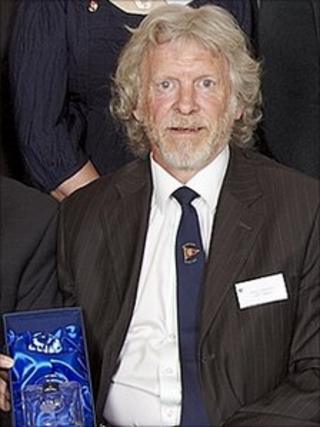 A man who was inspired by a Tony Hancock sketch to give blood has won an award for donating around 15 gallons (68.3 litres) of it.
David Dawkins, 66, is a former actor from Wantage who had a walk on part in Stanley Kubrick's A Clockwork Orange.
He was honoured at an NHS Blood and Transplant awards event at The Oxford Centre.
Mr Dawkins has been donating blood for more than 40 years and was among 46 Oxfordshire donors at the event.
He said he first gave blood after watching the famed Hancock episode The Blood Donor.
Mr Dawkins said: "It was ridiculous and it made me laugh and I just thought it's quite serious. It got the message to me."
Whilst Tony Hancock inspired him to give blood, watching the comedian and other performers such as Spike Milligan and Peter Sellers, also set him on the road to acting.
"I admired people who could be silly and get away with it" he added.
It led him to study at The Guildhall School of Music & Drama. His first job was as Sir Michael Redgrave's dresser at the Yvonne Arnaud Theatre, Guildford, in a production that also starred Ingrid Bergman.
He went on to appear in TV shows such as Z-Cars and the film Oh! What a Lovely War.
'Good fun'
He played a technician in A Clockwork Orange.
He now donates blood every 16 weeks at Wantage Civic Hall - the maximum allowed.
He said: "If you're thinking about it, do it, because you feel good in the end.
"It's great, it's good fun, it doesn't hurt at all and actually I feel rejuvenated at the end of it."
Jonathan Sewell, lead donor relations manager for the National Blood Service, said: "All our donors are special, but it is a pleasure to thank our dedicated donors in this way.
"They continue to make time to donate come rain or shine and really are the lifeblood of our service."