Thames Valley fire control centre plan studied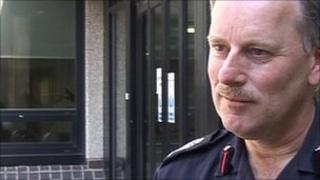 Oxfordshire Fire and Rescue Service has been asked by the county council to look at options for working with Buckinghamshire and Berkshire.
Plans for a fire control centre covering the Thames Valley are being studied after national plans were scrapped last December.
The Fire Brigades' Union (FBU) responded "cautiously" to the plans.
But Oxfordshire's deputy chief fire officer Colin Thomas said larger collaborations meant lower costs.
He said: "Here in Oxfordshire it's absolutely vital that whatever we do we can meet the needs of the local people."
Mr Thomas said he wanted to strike a balance between being able to benefit from new technology in a modern control room, while still having the knowledge of people based in the area they serve.
An FBU spokesman said they wanted the service to remain as local as possible.
Oxfordshire's control room in Kidlington had been due to merge with eight others across the South East in 2012 under a multi-million-pound scheme to replace 46 fire control centres in England with nine regional sites.