Tristan Waterkeyn tells of yacht rescue off Cape Verde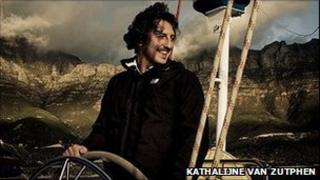 An Oxford man has spoken of his ordeal after being rescued from a sinking yacht off the coast of West Africa.
Tristan Waterkeyn, 30, was aboard the Ex Africa yacht which was sailing in the Cape Verde Islands.
Mr Waterkeyn was one four people - and a cat - rescued by Cambridge-based British Antarctic Survey vessel the RRS James Clark Ross (JCR) on Sunday.
He said the yacht was "breaking apart" before the rescue which happened after the JCR was alerted by the coastguard.
It was at the scene within six hours of being told of the yacht's plight.
Mr Waterkeyn, a singer-songwriter who has performed on TV and radio in South Africa, was helping the crew deliver the yacht from Cape Town to the south of France.
He said: "We'd been suffering numerous damages along the way including engine failures, and were running out of fuel and water.
"With worsening leaking conditions it started to get dicey."
The crew lived on rations of tinned tuna and rice.
The yacht had attempted to reach the Cape Verde Islands for 25 days and raised a distress call once it got near.
"That morning the nuts that hold the steering console on to the deck were starting to come apart.
"The boat was actually just breaking apart."
The yacht sank after the crew were lifted off and they will now stay on board the JCR until it returns to Portland, Dorset, next week.
Mr Waterkeyn said: "It was fantastic. It was a huge relief for everyone on board and probably the cat as well if he could say anything.
"It was amazing to see how these guys reacted, how organised they were."
The director of British Antarctic Survey, Professor Nicholas Owens, said: "I am delighted that our ship was able to rescue the four-person crew and they are now safe and well.
"It was down to the professionalism of the captain and his crew that we were able to provide assistance and rescue the yacht's crew safely."