Cowley Road event off but South Park goes ahead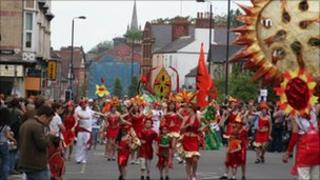 Organisers of the Cowley Road Carnival in Oxford have cancelled the event due to lack of funds.
The group, Cowley Road Works, will instead limit the carnival and procession to South Park.
John Hole, chairman of the trustees, told the BBC: "It'll feel different. You take away the road and you haven't got that atmosphere."
Last year carnival activities took place at both locations attracting more than 66,000 people.
Mr Hole said the carnival relied entirely on donations from traders on Cowley Road, but that businesses were finding times difficult.
"We are immensely grateful to all those who have contributed so far.
"However, we have not received support on the scale that we had hoped and planned for, resulting in a major shortfall in funding the costs of the road closure.
"This is a decision which we have not taken lightly, and we know that many people in the Oxford community will be bitterly disappointed, as we are ourselves."
The carnival at South Park will take place on 2 and 3 July.