Olympic torch will stop in Oxford before 2012 Games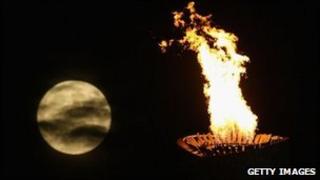 Oxford will be one of the places to host the Olympic torch on its tour around the country in the lead up to the 2012 Games.
The relay will involve 8,000 torch bearers carrying the flame on a 70-day journey starting on 19 May 2012.
It will stop in Oxford on 9 July after Luton and before Reading - the exact route will be announced next year.
The leader of Oxford City Council Bob Price said he was absolutely delighted by the news.
Festivities along route
He said: "The torch is with us for effectively half a day because it arrives in the early part of the evening on day one and then it will parade through the city to an evening venue.
"Then there will be some kind of evening event obviously to which the public will be invited."
He added that the goal was to make sure that as many people in the city as possible got to see the torch and be part of the festivities along the route.
A preliminary route in the city has been worked out, with more details about Oxford's celebrations to be made public by the early autumn.