Eight respond to Oxford baby heart surgery plans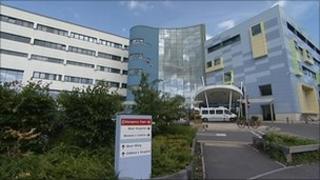 Eight people in Oxfordshire have so far responded to a public consultation on the future of children's heart surgery at the John Radcliffe Hospital.
An NHS review looked at 11 units across England amid concerns expertise was being spread too thinly.
It published four options, all of which would see the permanent closure of the hospital's unit, where surgery is suspended following four deaths.
Southampton's unit could also close but 50,000 people have responded to that.
A spokeswoman for the John Radcliffe Hospital said she did not expect many more people to respond until after Wednesday night's meeting at Oxford's Kassam Stadium.
She said the public consultation would run until 1 July and people should ideally attend a consultation event before filling in a form to respond.
Four units closing
Patients from the John Radcliffe Hospital are currently sent to Southampton for operations.
In total there are about 30 child heart surgeons across England who carry out 3,600 operations each year on children in England and Wales.
The NHS review, set up by the National Specialised Commissioning Group, which is in charge of child heart units, recommended a minimum of four surgeons per heart surgery unit, which means at least four hospitals will stop doing operations.
The spokeswoman said the John Radcliffe Hospital supported the NHS's "option B", which would see patients continue to travel to Southampton General Hospital for surgery while visiting their cardiologist at John Radcliffe Hospital for outpatient appointments.
Another 15 events are being held around the country and a final decision on the public consultation will be made in the autumn.
The four options are to keep units opened at either:
Newcastle, Liverpool, Leicester, Birmingham, Bristol plus two in London
Newcastle, Liverpool, Birmingham, Bristol, Southampton plus two in London
Newcastle, Liverpool, Birmingham, Bristol plus two in London
Leeds, Liverpool, Bristol, Birmingham plus two in London