Oxford May Day celebrations pass 'without incident'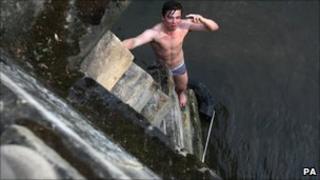 About 18,000 people enjoyed Oxford's May Day celebrations "without incident" after people were deterred from jumping from Magdalen Bridge, the council said.
Many gathered on and around the bridge to hear choristers sing hymns at dawn from the tower at Magdalen College - a 400-year-old tradition.
The bridge was opened this year after being closed on May Day morning for the past five years to try to stop jumpers.
The city council said it was pleased people had respected safety concerns.
However some students decided to swim in the river instead.
In 2005, 40 people were hurt when they jumped into the river and the county council said the cost to the health service that year was about £50,000.
Last year, about 30 revellers jumped from Magdalen Bridge even though it had been closed.
'Handful' of arrests
Councillor Bob Price, leader of Labour-run Oxford City Council, said: "We are pleased that people respected the decision to open the bridge this year.
"We worked closely with the police and other agencies to ensure that people enjoyed the event.
"There was only one person who tried to jump but the security was in place to stop him."
Oxford Police Commander, Supt Amanda Pearson, said: "Officers had worked hard all night visiting pubs and clubs and ensuring that early intervention was taken into potential alcohol-related incidents.
"There were a handful of arrests during the night and considering the very large numbers of people out and about enjoying themselves, very little crime and disorder."
After the hymns, celebrations continued across the city.