Diamond Light Source claims tooth decay breakthrough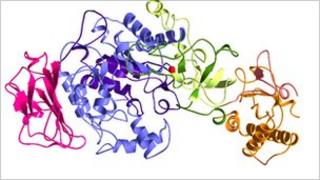 Scientists in Oxfordshire have claimed a breakthrough in battling tooth decay.
Work at Diamond Light Source, the facility that accelerates electrons to near light-speed, has revealed the 3D structure of an important enzyme.
The enzyme forms glucan, a substance that contains bacteria which forms on the surface of teeth, secreting acids and breaking down the enamel.
Professor Thomas Sorensen said the new information would be vital in preventing plaque build up.
He said: "Knowing the 3D structure of the enzyme is like knowing the shape of a lock you need to find a key for - it makes it much easier to find the right key that will fit."
UK scientists at the Diamond synchrotron worked with researchers at the Photon Factory in Tsukuba city, Japan, to understand the enzyme, known as GTF-SI, that plays a key role in tooth decay.
Sohei Ito, from the University of Shizuoka in Japan, said: "With the data we collected at Diamond and the Photon Factory, we now have a better understanding of how the enzyme functions and how it can be stopped."
It is hoped the structural information could be used to create new inhibitors that could be incorporated into toothpaste and mouthwash, making them more effective at preventing tooth decay.
Diamond Light Source is a not-for-profit limited company used for academic and industry research.
Located at the Harwell Science and Innovation Campus in Oxfordshire, it is funded by the UK Government and the Wellcome Trust charity.