Thatched houses in Great Tew damaged by fire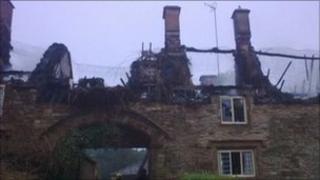 More than 60 firefighters have been called to a fire on the roof of a terrace of thatched houses in Great Tew, Oxfordshire.
The fire in New Road, which started at about 2100 BST on Thursday evening, destroyed the roof and first floor of the middle two houses in the terrace.
Fire service group manager David Heycock said the damage was "incredibly extensive".
Ten people were in the properties at the time and all were safely evacuated.
The fire is believed to have spread from a chimney.
The fire service used fire breaks to prevent the damage spreading to the two houses at either end of the terrace but they are expected to be working at the scene all day on Friday.
"Attempts are being made to strip away the thatch which is some four feet deep on the first floor and still smouldering with some intensity," said Mr Heycock.