Bicester's eco-town plans changed after criticism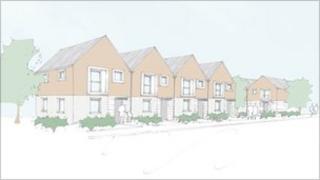 The first plans for Bicester's new eco-town have been altered to make the proposal more environmentally friendly.
The flagship project in Bicester was chosen as one of four such developments in England last year.
But the first plans received criticism from experts during an initial consultation.
The development company, P3 Eco, has submitted a revised application which has seen designs to a number homes changed and public paths modified.
Some properties have also been altered to improve their orientation so roofs with solar panels slope to the south.
'Sets benchmark'
While cycle and foot paths have also been realigned to create a more direct route towards the village centre.
The changes come after a report for Cherwell Council's planning committee saw the Environment Agency object to the application, as did Oxfordshire County Council.
The Commission for Architecture and the Built Environment said the plans showed "little deviation from the standard suburban housing model".
Ian Inshaw, chairman of the development company P3 Eco, said: "Consultation has and will continue to be at the heart of this fascinating project and only by sharing and discussing our ideas and plans can we hope to achieve the highest possible standards.
"This project is at the forefront of an entirely new way of looking at the mass housing market and it sets a benchmark for future developments."
The North West Bicester Eco Town is looking to get full planning permission for 393 residential units along with an energy centre, a nursery, a community centre, 3 retail units, an Eco-Business Centre, office accommodation, an Eco-Pub and a primary school.