Building starts on new roundabout at Heyford Hill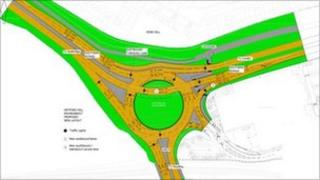 Roadworks have started at the Heyford Hill roundabout on the Oxford ringroad which are set to last for six months.
A doughnut style roundabout will enhance access to the Sainsbury's store without disrupting other road users.
Conservative councillor Rodney Rose said there was a robust plan in place to minimise disruption.
"The traffic management that Sainsbury's are putting forward is certainly adequate to keep the road open," he said.
Sainsbury's is funding almost the whole cost of the improvements which are due to be finished in October.
A spokesman said the supermarket had worked with the county council to ensure that the required temporary lane closures will only be in place between 0930 and 1530 BST or at night to avoid any major works taking place during the morning and afternoon traffic peaks.