Ardley waste incinerator campaigners in legal challenge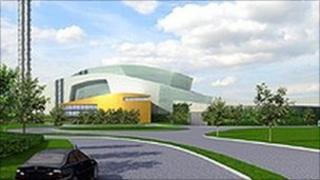 Campaigners have started a legal bid against a decision to allow a waste incinerator to be built in Oxfordshire.
Councillors had refused a 25-year deal for waste firm Viridor to run a plant at Ardley, but the company appealed in 2010, prompting a public inquiry.
A planning inspector said the government should approve it and the Secretary of State agreed last month.
Campaigners have lodged a statutory appeal which is expected to be heard at the High Court in the autumn.
The Ardley Against the Incinerator (AAI) group believes it has found a legal problem with the decision but are yet to reveal further details.
'Pressing need'
Jon O'Neill, chair of AAI, said: "We have always believed, with good reason and evidence, the granting of planning permission to develop a 300,000-tonne incinerator on the Ardley Fields Farm site is wrong.
"After a thorough review by, and detailed guidance from, legal counsel we believe there is a significant point of law on which the statutory appeal is based."
Secretary of State for Communities and Local Government Eric Pickles agreed to the plans after the planning inspector said there was a "pressing need" for such a facility and there would be no significant harm to health.
Viridor believes it can turn 300,000 tonnes of waste into electricity every year.
A secondary revised planning application by the firm for an incinerator at the site, which was approved by councillors in October, still remains.
Viridor can still press ahead with this scheme should its original plans hit problems.