New hangar opens for tanker aircraft at RAF Brize Norton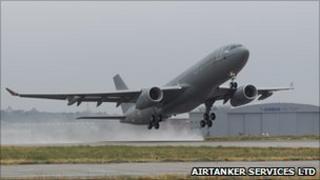 A new hangar has opened at RAF Brize Norton in Oxfordshire which will act as a base for specially-converted refuelling planes.
The 14 new Future Strategic Tanker Aircraft (FTSA) are based on the A330-200 airliner and will replace the VC10 and Tristar aircraft at the base.
They will be used for air to air refuelling, transporting passengers and medical evacuations.
By 2016 up to 500 jobs will be based at the two-bay hangar and office complex.
Air Commodore Jon Ager said: "It will allow us to do more, and with fewer aircraft.
"Brize Norton is going to have a very important part to play in terms of the Royal Air Force and contribution for defence, both in terms of supporting our troops and deploying the air to air refuelling asset that is required."
The first of the new planes is due to arrive at the base towards the end of the year.
They will eventually replace 13 VC10s and eight Tristar aircraft.
The Carterton-based company, AirTanker, was set up in 2008 to deliver the FSTA to the Ministry of Defence over 27 years.
The contract is worth £10.5bn but is estimated to cost up to£13bn after the RAF has paid fuel costs.