Oxfordshire hospitals compulsory cuts 'not ruled out'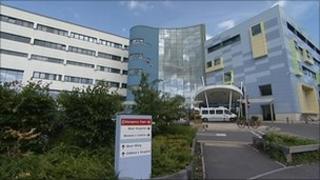 The chief of Oxfordshire's hospitals said he cannot rule out compulsory redundancies as part of £120m worth of savings over three years.
Oxford Radcliffe Hospitals Trust said staff will be redeployed through an annual turnover of about 800 positions.
But chief executive Sir Jonathan Michael said compulsory cuts to the 10,000 workforce may also be needed.
The NHS trust currently runs the John Radcliffe, Horton and Churchill hospitals with a turnover of £650m.
Sir Jonathan said 65% of the trust's budget currently goes on staffing.
'Fantastic reputation'
He added: "It certainly means we are looking to reduce the amount of money we spend on staffing.
"If we can reduce the number of relatively expensive and temporary staff that's one way we can do it.
"By natural turnover what we would hope to be able to do is to, rather than recruiting into these posts externally, look to redeploy people.
"At the moment I can't make absolute commitments or promises about redundancies or otherwise.
"We are looking to manage this as best we can and avoid compulsory redundancies but I certainly can't make any commitment that it wont be necessary in the future."
Sir Jonathan, who was appointed chief executive in January 2010, said the trust was on target to make a small surplus this financial year following a number of years in the red.
"We made a commitment to the NHS that we would balance our budget this year and we are going to do that with a small surplus," he added.
"Oxford has a fantastic reputation, it performs very well but I know it could perform even better."