Former Supergrass frontman Gaz Coombes goes solo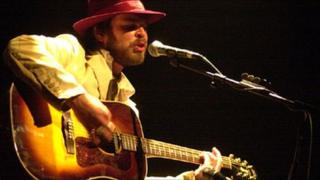 After severing musical ties with his Supergrass bandmates, one of Oxford's most successful musicians, Gaz Coombes, has gone solo.
"Supergrass finished for a reason. I felt we weren't firing and I wasn't enjoying the time in the studio," he said.
It is a simple enough explanation, and after 17 years together perhaps a reasonable one.
Gaz Coombes, Danny Goffey and Mick Quinn formed Supergrass in Wheatley in 1993. They split in April 2010 during the making of their seventh studio album which has never been released.
Lead vocalist and guitarist Gaz Coombes now wants to move on, and for his latest musical venture he is going it alone. Just him.
"I didn't want to be in a band and have been playing pretty much all the instruments. It's been great. I've been uncovering a new voice and it's a strong voice," he said.
Ten songs have been recorded at Gaz's studio in Oxford, the city that is synonymous with Supergrass. And there is another strong link to his past. Sam Williams, who produced the band's most successful album, 1995's I Should Coco, is behind the desk again.
"We've always had a connection and it's helped me be spontaneous. I've written and recorded the songs as I've gone along. It sounds different to Supergrass but there's still that energy," the 35-year-old said.
Gaz still keeps up with new acts coming out of Oxford and on Saturday night was in the audience at the Jericho Tavern to watch brother Charly's band Charly Coombes & The New Breed.
"He's been supportive of everything I've done," said Charly, who himself had a spell in Supergrass. "But he's always honest about the music, even if it's harsh."
'Little dude'
So is being Gaz's brother a help or a hindrance, when you're trying to establish yourself in your own right?
"I look on it as a good thing. People can get the wrong impression but I'm proud of what he's accomplished," said Charly, five years Gaz's junior.
In between sessions for his own album, Gaz has been working behind the scenes on his brother's record.
"When we were growing up, I just remember him as a cool little dude. I don't make it to as many gigs as I'd like but it's a pleasure to be able to help out when I can," said Gaz.
Gaz Coombes' debut solo album is set for release later this year.