Flood-hit Thames Valley residents urged to plan ahead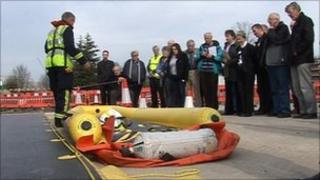 Residents from across the Thames Valley gathered together to take part in mock flooding scenarios to see how they would cope in a major flood.
Communities who have been affected by floods in the past have been urged to draw-up action plans.
The scheme is also promoting better communication between residents and the emergency services after homes in Oxford were badly flooded in 2007.
The initiative was backed by Environment minister Richard Benyon.
Mr Benyon, also MP for Newbury, attended the event and met with residents.
"The most important thing is to get in place a neighbourhood or community plan where people can be flood wardens, they can be part of a preparation, they can have equipment on hand and they can look after the vulnerable and protect their families," he added.
Residents were also shown demonstrations of flood barriers and a mock rescue from the River Thames during the day's activities on Saturday.
Barry Russell, Environment Agency flood risk manager, said: "More extreme weather and rising sea levels mean that we need to protect ourselves against the risk of floods, and working with communities to make them better prepared is a key part of our role.
"Since the floods which affected large parts of the Thames Valley in 2007, we have been working hard with local groups to raise awareness of flood risk, and it will be an excellent opportunity to bring everyone together to test those plans."