Bell-ringer pays to retune Oxford church bells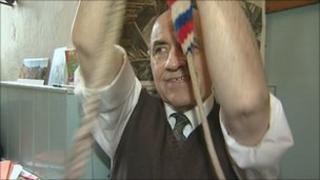 A blind bell-ringer has handed over thousands of pounds of his life savings to help repair the bells at an Oxford church.
Bernard Masterman is giving £27,000 to help pay for the eight bells at St Giles' Church in the city centre to be retuned and rehung.
Mr Masterman, a former car plant worker, has been ringing church bells for 38 years.
His donation will pay for just over half the cost of the work.
He said: "I love bells - there's something skilful and you can always learn something new, even if you've been ringing for years and years."
"I used to work at Cowley in the car factory. A blind chap there said, 'If you want to meet people, why not take up church bell ringing?'"
The bells, some of which date back to 1602, would normally have been lowered through a trap door in the bell tower but since they were put in place, an organ has been installed underneath meaning they will have to be taken out of the building through a side window, adding to the cost of the work.