Housing shortages at Brize Norton caused by funding constraints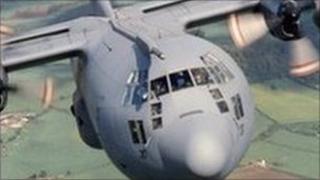 Delays building houses at Oxfordshire's RAF Brize Norton air base means temporary accommodation will be used to house staff from RAF Lyneham.
More than 2,000 airmen are relocating between now and September 2012 when the Wiltshire base closes.
"Funding constraints" will mean places at RAF Fairford and the Shivernham military academy will have to be used.
Group Captain David Houghton said in the first two or three years at least, they will also rent local houses.
Commuter traffic
The plan to merge the two bases has been two years in the planning and will see the number of planes at the Oxfordshire base increase from 28 to 67.
The RAF has already refurbished 70 different buildings at Brize Norton and is in the process of building more than 1,000 new single en-suite rooms for airmen who want to live on the base.
Gp Capt Houghton admitted that there would be an increase in traffic as a result of the move.
But he said that new simulators would reduce the number of test flights in the local area and commuter traffic would be phased across different times of the day.