Raymond Blanc 'sorry' over restaurant's tree felling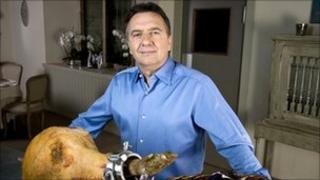 Michelin-star chef Raymond Blanc has apologised after two historic trees were felled outside the entrance to his Oxfordshire restaurant.
The 40ft (12.2m) pine trees were cut down outside Le Manoir aux Quat'Saisons in Great Milton.
South Oxfordshire Council has started an investigation as the trees were subject to a preservation order.
Mr Blanc said the restaurant's orchard would plant 8,000 trees over the next three years across the country.
The French-born chef said: "I must raise my hand and apologise, mostly to my own community Great Milton and of course to the wider community of Oxfordshire. It shouldn't have happened.
"I will take the full brunt... but I hope to make amends by replanting lots more pine trees, lots more oak trees which will create a beautiful landscape."
As part of a tree preservation order, the council's permission needs to be sought if anyone wants to prune or fell a tree.
Anyone who breaches the order could be prosecuted or face a fine.
A spokeswoman for South Oxfordshire District Council said the investigation was in its early stages and had reported by a member of the public.
"We gather evidence for each individual case to determine appropriate action and to decide whether it is in the public interest to pursue prosecution.
"The legislation puts a duty on the landowner to plant replacement trees where trees have been removed and we decide whether these replacements are appropriate."
The restaurant, which has two Michelin stars, opened in 1984.